VOL. I NO. 7
VERDUN, WEDNESDAY, DECEMBER 07, 1914 - 2 PAGES
PRICE FIVE CENTS
London August 4th- London, August 4th- The British foreign minister met with applause in the house of commons today when he announced "If a foreign fleet came down upon the English channel and bombarded and battered the unprotected coasts of France, we could not stand by with our arms folded." Later in the evening came the official declaration that Great Britain is at war with Germany. The foreign minister then stated that two acts by Germany would necessitate British involvement; an attack on the French coast or the movement into the neutral Kingdom of Belgium. It was the later event that roused Britain to war.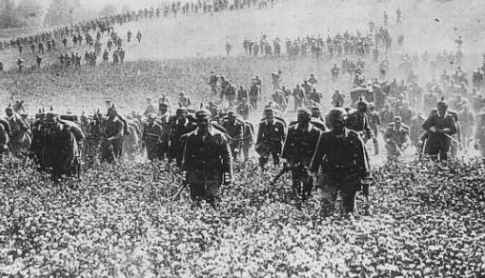 The Kaiser gave an ultimatum to the King of Belgium; either let us pass unencumbered or face us as an enemy. England demanded that Germany cease its antagonism towards Belgium or face a declaration of war. When the Kaiser failed to respond favorably, the English King announced the full mobilization of the British armed forces. With the French navy being stationed in the
Mediterranean, the north coast of France remains unprotected. Britain remains firm in its affirmation to protect the French coast at all costs. Currently, they await only the first strike by the German fleet to retaliate swiftly and forcefully. Throughout the rest of Europe countries have either announced their alignment with one side or declared neutrality. Up until this point there has been a political war waged with verbal threats. From here on out however, it is a war of guns, ships, and airplanes. The cost will no longer be in hurt pride but in human lives.